Note:

This article discusses an upcoming feature not launched to all customers. Please contact hospitality@tockhq.com to learn more.
How to create a Schedule
Your business and its availability changes throughout the year—from winter to patio season or seasonal menu to seasonal menu. To start offering reservations, create your availability schedule. A schedule is a weekly setup consisting of services, a floor plan, experience assignments, and capacity settings. Once a schedule is created, either save it as a draft or publish it to make your offerings available to the public. Create one schedule or many as you'd like to accommodate all your planned changes.
Navigate to Control Panel, and select Availability Planning
Select Add Schedule

Give your schedule a Name
Select the Start Date and End Date

for your schedule

Note: schedules can only be set up to a 120 day range

If you're ready to set up your Floor plan for your special day, click Continue and check out this article

for how to set up floor plans

If you're not ready to set up your Floor plan, click Save as draft

This will allow you to save your schedule without publishing it and finish creating it when you're ready
Duplicating Schedules
Once you have a schedule created, you can duplicate it to easily make changes without starting from scratch.
Navigate to Control Panel, and select Configuration
Click on the 3 dots in the bottom right corner for the schedule you want to duplicate

This will give you the option to Duplicate that schedule
Update your Schedule name, Start date, and End date select Duplicate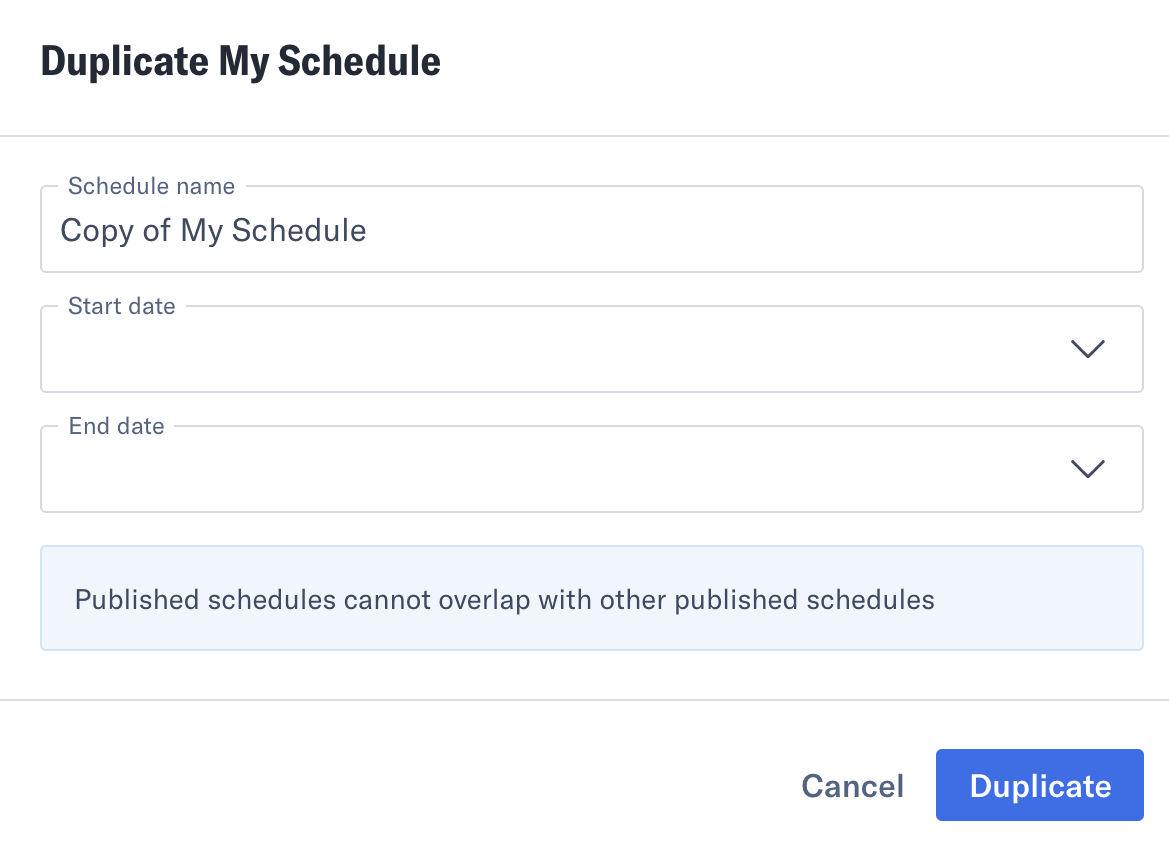 Existing Reservations
If you had existing reservations that fall within the dates of your new schedule, these reservations will still exist when creating your new schedule. When publishing your new schedule, these reservations will be automatically reassigned to a table that fits them. If a table does not exist that can accommodate that reservation, you will see the reservation under 'unassigned reservations'.
Here's a video of how to configure schedules: